Metal detector HDK MEAT 1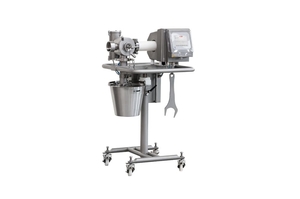 Mobile metal detector for connection to vacuum filler for detection from pasty products such as for example during the production of meat products. The detector is bedded with AMD 07 evaluation electronic to give the guarantee of maximum exactness and effective data managements. Thanks to the intuitive colour touch display this metal detector is effective and easily usable. All metal particles are detected and it is both off-shell particles and the ones in the  form of inclusions in the end product.
Connectable to all common commercial vacuuom filling machines.
Low-budget and toolles cleaning in mere several steps.
Suitable also for high-pressure cleaning.