Second hand machinery
Do you need to reduce costs? Are you not a demanding customer and are you satisfied with the used, but fully functional, magnetic separator? So we have these used magnetic separators for you.
Eddy current separator made by Wagner Magnete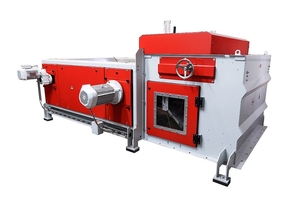 Model 0429-49-120) for the recovery of valueable non-ferrous materials and for the protection of machines and plants.
Technical parameters
Year of manufacture: 2019
Ex-display machine, the separator is in fact new (so far it has been used only for presentation purposes and for material tests for less than 22 hours in total)
Rotor type: eccentric
Rotor diameter: 490 mm
Number of magnetic poles: 12
Working width: 1200 mm
Max. production capacity: 60 – 85 m3/h (depending on the material)
The appliance is complete, i. e., including the control panel with a LCD screen.
Usually this separator is used for cleaning of
Municipal waste
Biomass
Wood pulp
Crushed glass
Ash from incinerators
Price
Offer price: 49 900 € (without VAT) / 1 pc EX WORKS Hřivínův Újezd, Czech Republic