Magnetic conveyors MD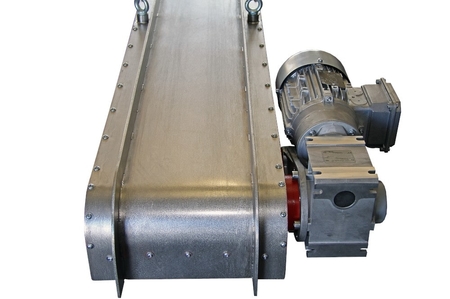 Beltless magnetic conveyors are highly efficient devices for transporting small ferromagnetic turnings, stampings and assembly components as well as scrap such as punch-outs, trim stock and shavings. Strong permanent magnets (neodymium or ferrite), chain driven under a non-moving stainless steel slide plate, ensure safe and reliable material transport.
Advantages of magnetic chip conveyors
The strong permanent magnets (either ferrite or neodymium NdFeB) provide for a sure and reliable transport of the material. In comparison with the traditional belt conveyor the small parts cannot get from the slider bed into the inner parts of the slider bed conveyor (i. e., these parts cannot do any harm to the magnetic beltless slide conveyor). This product is totally maintenance-free and allows for around the clock operation.
The beltless magnetic slide conveyor is custom-made (according to the client's technical and dimensional requirements).
Design and working principle
The beltless magnetic conveyor does not transport the material by moving a conveyor belt, but by means of a system of permanent magnets (that are chain driven under a non-moving stainless steel slide plate). Ferrous objects are therefore caught at the beginning of the conveyor by the permanent magnet assembly and carried to its end (where they fall into e. g. a dump box, as the magnet assembly, which has been holding them until this moment, returns to the beginning of the magnetic conveyor).
Which industrial branches can the magnetic conveyor be used in?
The magnetic chip conveyor finds use in metal working, metal cutting, transport of smaller pressed pieces etc.