Service of magnetic separators
Members of our team are experts with many years' experience in the field of magnetic separation. Therefore we can offer our clients solutions fulfilling their specific requirements.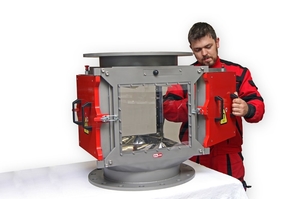 The customer support begins with the help that our technicians provide to potential customers looking for optimal equipment. If necessary, they adapt the selected products (in terms of dimensions and craftsmanship) to satisfy specific needs of the customer, they perform magnetic separation efficiency tests directly on the customer's materials samples and in the case of more complex equipment they supervise the final product installation at the contracting entity's place and train the equipment operators, etc.
The provision of technical and customer service does not end with putting the equipment into operation or with the expiry of the warranty period. Throughout the service life of the SOLLAU products our customers may approach us with any requests concerning
tests of the lifting magnets efficiency (we will perform the test of load-carrying capacity and provide you with a certificate attesting the inspection results)
tests of the magnetic separators efficiency (we will check the overall condition of the separator, the measurements of its magnetic efficiency and provide a certificate attesting the result of the inspection, or recommend suitable repair or refurbishment to extend the product's service life where applicable)
repairs and service for magnetic separation equipment (which can be performed either on our premises or directly at the customer's place - even in the case where other than SOLLAU separators are concerned!)
original spare parts for equipment delivered by our company
training for operators working with our equipment
Although SOLLAU products are very rarely affected by failures or a decrease in efficiency, our technicians are ready to provide our customers with quick and competent assistance and support. They can also regulary visit your company on the basis of the agreed Standard Service Program (SSP) prepared according to your production needs and scheduled shut-downs.
By participating in the standard service program (SSP) and regular preventive inspections our customers
minimize problems with the operated equipment
achieve the highest level of effectiveness of their production activities
eliminate potential serious and expensive problems (such as accidents and shutdowns caused by damaged or broken equipment)
avoid presence of undesirable contaminants in the final product
save costs related to maintenance staff
fulfil conditions for obtaining and maintaining the ISO 9000 certificate
In addition to the above mentioned indisputable advantages, our clients participating in the Programme of Standard Service receive a very interesting bonus in the form of the one-year extension of the warranty on the serviced product.