Mobile magnetic filters MSP-S ANCISTRUS
Mobile magnetic filter MSP-S ANCISTRUS is designed to separate tiny iron contamination from machining oils and coolants.
Main benefits for the use of separator MSP-S ANCISTRUS
Extension of the life of cutting, cooling and hydraulic fluids
Precision finish of machined products
Cost savings in disposable filter usage
Reduced waste disposable and oil wastage
Extension of (e. g. machine) tool life
Overnight fluid cleaning beyond normal working hours
Extension of the life of pumps and nozzles
Reduction of maintenance costs
Reduced downtime
Permanent protection of the production equipment
Smooth production operation
Thanks to its compactness and mobility, this filtration system is ideal e. g. for companies providing engineering service
Separator design
This complete filtration system is mounted on a wheeled chassis and comprises the following main parts:
extremely strong magnetic filter
integral on-board pump
inlet and outlet hoses with quick lock connections for easy connection to the pipeline circuit to be cleaned.
The magnetic rods create a magnetic labyrinth that capture even the smallest ferrous particles (from 1 micron) and ensures a very high separation level.
The trapped magnetic contaminants migrate to the rear of the magnetic rods where they do not block the material flow and remain protected from wash-off until the tubes are cleaned.
Separator cleaning
As soon as the fluid inlet and outlet are closed, the inner part of the separator is taken out and put into a waste collection compartment (situated inside of the mobile filtration system). Afterwards the magnetic rods are pulled out of the protective stainless steel tubes and the captured magnetic particles fall off the protective tubes spontaneously (into the waste collection compartment). Now the magnetic filter can be reassembled and the filtration process resumed.
SOLLAU – our products are welded by real professionals!

SOLLAU certifications:  
Authorization to perform welding on pressure equipment according to PED 2014 / 68 / EU
Pressure welder certificate according to EN-ISO 3834 - 2, EN 1090 - 2, EN 13480 - 1 to 5, EN 13445 - 1 to 5
MSP-S ANCISTRUS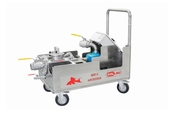 Pressure resistance up to 10 bar
Magnetic flux on the protective tube up to 13 500 Gauss
Large magnetic separation area = large holding capacity
Mobile version allows to move the filtration system easily and quickly
Quick lock connections for easy connection to the pipeline circuit
Mesh screen for removal of non-magnetic debris (optional)
Technical parameters
Overall dimensions of the MSP-S ANCISTRUS mobile filtration system
Height without handle: 666 mm
Height with handle: 943 mm
Carriage height: 188 mm
Length: 750 mm
Width: 600 mm
Pump description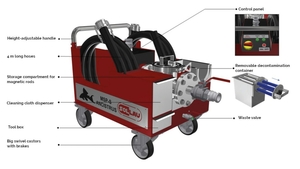 Calpeda AM 40-10B (power supply: 230 V, 50 Hz, motor: 2900 rpm, 0.55 kW, weight approx. 20 kg, pressure: 6 bar, IP 54, max. suction height: 12.9 m)
Hoses
4 m long inlet and outlet hoses made from oil-resistant PVC supplied with quick lock connections guaranteeing easy and fast connection of the mobile cleaning device to the pipeline circuit to be cleaned.
| Model | Input/output diameter (mm) | Datasheet |
| --- | --- | --- |
| MSP-S 100 N ANCISTRUS | 100 | display PDF |