Conveyor head rollers MV / Magnetic pulleys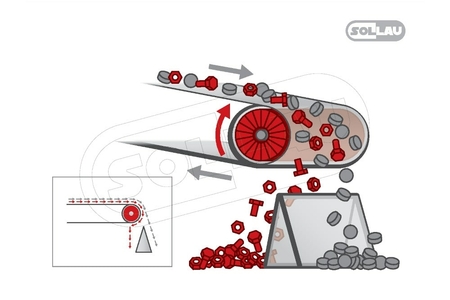 A magnetic pulley (sometimes called also a magnetic roller) is a device for automatic and permanent removal of magnetic iron metals from inert materials.
Installation of magnetic roller
The key part of the machine consists of a set of ferrite or neodymium NdFeB magnets and of an external drum from stainless steel that revolves on a shaft together with the magnetic cores. The magnetic pulley is usually an integral part of a belt conveyor (unlike the magnetic drum).
How does flow-liquid magnetic pulley work?
The ferromagnetic pieces (transported on the conveyor belt) are captured by the strong permanent magnets and dragged on the surface of the pulley beyond the magnetic axis of the drum where they fall off (already before that the non-magnetic particles fall off due to gravity).
Recommendation
The magnetic field of the pulley is about 100 mm high, so it is advisable that the layer of the substance on the band should not be higher than 80 mm. In case of a high layer of the transported stuff we recommend to combine the use of the magnetic pulley with the application of our overband separator or our magnetic plate.
Advantages of magnetic roller
The magnetic pulley is easy to install and maintain, the materials used for its production (stainless steel, set of permanent ferrite or neo magnets) as well as its robust design provide for a long-term solution to separation problems.
The application of ferrite magnets arranges for nearly unlimited working life, however, if you need higher magnetic force we recommend that the drum is fitted with extremely powerful neodymium NdFeB magnets from rare earth ores (especially in case of the separation of small ferromagnetic particles from materials of worse bulk properties).
Which industrial branches can the magnetic roller be use of in?
The permanent magnet systems simplify the separation of ferrous particles, allowing for automatic recovery without production stoppage. At the same time the magnetic roller protects the subsequent machinery (e. g., shredders, mills, grinders) from breakage. The magnetic pulleys find use in recycling and mining as well as in wood and plastic industries.