Buy-out of magnetic separators of all brands and types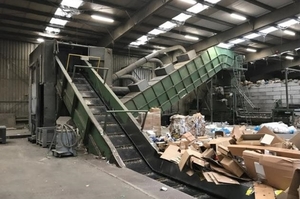 Are you finishing your business activities, have you decided to reorientate on another kind of business activity and do you want to get rid of magnetic separators that you do not have the use for any more? Do you need to solve the actual financial difficulties quickly and in so doing are you an owner of redundant, obsolute, inefficient, cracked, functionless operationally uneconomic magnetic separators? Do you want to replace an old magnetic separator with a new one?
Then we have a good piece of news for you for we have just started the buy-out of the  permanent separators! Please send your offer of unneeded machinery on e-mail info@sollau.cz, namely including the following information:
list and descriptioned being offered (especially it is convenient to define the data like  brand and model, manufacturer, year of construction, application, dimensions, weight, length of use, logistic data, instructions for use or another relevant technical description, purchase price, withdrawal price etc.)
photo documentation or video of the separator (eventually a web link where the separator can be viewed)
Check of the real status (salvage value) of the separator offered will be carried out by our  technicians in your premises  and subsequently an offer for surrender will be presented to you by us. In the case of the conclusion of a repurchase agreement we are eventually able to disassemble and transfer the appliance (based on arrangement) by ourselves.
The advantages of the sale of your magnetic separators to the company SOLLAU s.r.o.:
we have the longtime experience in field of magnetic separation and we are able to appraise your appliance expertly and offer you the highest possible price for it
we a smaller-sized flexible company and that is why we are able to take an individual approach to each offer in accordance with the needs of the concrete client
we produce the magnetic separators of high quality by ourseleves and we are able to deliver  you also for example in  the form of purchase on contra-account an appliance of the highest technical parameters.
we buy out both the individual permanent magnetic separators and also the whole manufacturing units bedded with these products
together with the immediate buy out we offer also the possibility of consignment sale of the unneeded appliance of yours