Permanent overband magnets for mobile crushers and screeners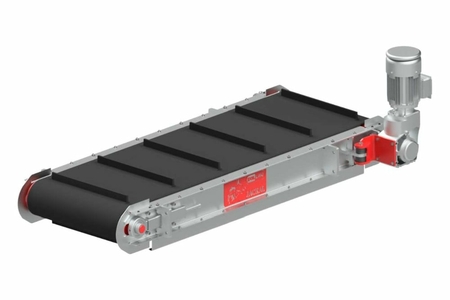 We have long experience with the production of overband magnets for mobile crushers and screeners.
We have supplied hundreds of magnetic separators to the largest recycling companies worldwide. We are proud to be a supplier of magnetic technologies for leading manufacturers of mobile crushers and screeners.
And that is why we know well what the customers expect from our overband magnets:
1Low weight – compact devices from 480 kg
2High performance and efficiency – magnetic induction up to 910 Gs (at a distance of 200 mm from the magnet)
3Small compact dimensions – easy installation in the production line
4Possibility to choose the magnetic core – the overband magnet can be fitted with extremely strong neodymium magnets (low weight, high performance, small dimensions) or with standard ferrite magnets (economical alternative; excellent price/performance ratio)
5Low price – we believe that our prices will be interesting for you
6Short delivery times – we have large production capacities
7Quality – we provide a 10-year warranty on the magnetic cores of our separatorss
8Possible customized production in your design (private label) – the colour, logo, marking, design, motor type, suspension mode – all is up to your choice
9Optional equipment – a wide range of additional accessories according to your requirements
We have our own development department so we are able to design a separator precisely for you. We take pride in meeting specific customer requirements so that the separator is fully compatible with your mobile line.
Benefits of using the overband magnets
Material without iron contamination
Permanent protection of production equipment (e. g. crushers)
Continuous production operation
Automatic cleaning without the interruption of the material flow
Elimination of operator errors
We will prepare an individual price quotation for you
We fit our separators either with ferrite or very strong neodymium magnets. We always care about the customer's needs.
Separators with ferrite magnets an economical variant of the product and are characterized by an excellent price/performance ratio. They are strong and reliable.
We often fit these separators with strong neodymium magnets. That is why these separators are characterized by low weight, small dimensions and extreme magnetic induction = high separation efficiency (and all these properties are appreciated by the manufacturers of mobile recycling systems).
The weight of our smallest overband is only 480 kg while maintaining a high separation efficiency. We most often produce overband magnets for belt conveyors of 1,000, 1,200 and 1,400 mm, but we are not afraid of challenges and are ready to design a tailor-made separator exactly for your technology.
The waterproof magnetic cores guarantee long service life of our appliances. The compact separator design with a minimum of cavities (where the material could accumulate) ensures its trouble-free operation.
Motor types (the devices can be supplied with various types of motors):
electric motor with a gearbox
hydraulic motor
electric cylinder
Options (basic overview):
Central lubrication
Discharge pole (only at neodymium versions) for lower belt wear and reliable removal of the captured metals
All-stainless steel design
Belt alignment control
Belt break control
We manufacture the overbands magnetic separators according to the requirements of our customers, so the list of optional variants is much more extensive.
We are aware of the fact that it is essential for our customers to know the magnet performance at different distances from the magnetic separator. Therefore, we state magnetic induction values not only at the magnetic core, but at a distance of 0 to 500 mm from the magnet (measured in 50 mm increments). Our strongest overband magnet is characterized by the magnetic induction of 910 G at a distance of 200 mm from the magnetic core.
We also test and measure the ability of overband magnets to attract diverse types of ferromagnetic objects from various distances.
SOLLAU – our products are welded by real professionals!

SOLLAU certifications:  
Authorization to perform welding on pressure equipment according to PED 2014 / 68 / EU
Pressure welder certificate according to EN-ISO 3834 - 2, EN 1090 - 2, EN 13480 - 1 to 5, EN 13445 - 1 to 5
Which industrial branches can the crossbelt magnetic separators be used in?