Magnetic rods MTN
The stainless steel encased rare earth magnetic tube is designed to separate ferromagnetic particles from dry materials or liquids. It can be used either separately or for assembling of simple grate separators (that is why the bar can be delivered with threads for mounting).
Design of magnetic rod
The very strong neodymium NdFeB magnets inside of the tube can detect even the finest ferromagnetic particles (e. g., in plastic materials such as regranulates, crushed plastic materials, plastic crumb, rejected mouldings etc.).
Dimensions of magnet rods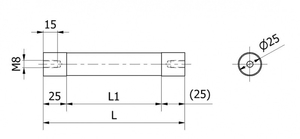 The magnetic tubes are manufactured in diameters of 22 mm, 25 mm, 32 mm and in lengths according to client needs (100 mm - 500 mm).
Easy placing an order in e-shop
Extended use of magnetic rods
You can make a magnetic separation grate, a set of fixed magnetic grids or even your own separator from several rods.

Which industrial branches can the magnetic rod be use of in?