Magnetic foils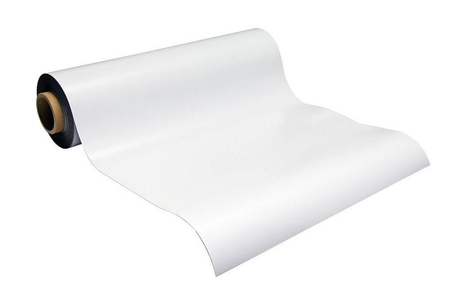 Magnetic foils (often referred to as flexible magnets) are a mixture of magnetic powder and a rubber binder. Therefore, they are flexible and hold well even on a rounded surface. They can either be printed with various technologies or can be as a self-adhesive backing magnetic surface. The advantage of magnetic foil is that it can be easily scissored, carved, or die-cut.
Basic types of magnetic foils
Magnetic foils, natural
Magnetic foils without surface treatment, dark brown colored. They are suitable for printing.
Self-adhesive magnetic foils
With a self-adhesive layer on one side, so you can easily attach advertising text to them. They are often found, e.g., on ceramic tourist items, which can be easily attached to a fridge.
Colored magnetic foils
They are provided with a colored lamination. Our offer includes magnetic foils in red, green, white, yellow, or blue. 
The operating temperature of the magnetic film is in the range of -30 +70 °C.
The adhesion (strength) of the magnetic foil depends on the thickness of the underlying metal surface, the thickness of the magnetic foil itself, and the type of magnetic material used to manufacture the magnetic foil.
The thickness of the magnetic foil varies between 0.4 mm and 2.0 mm.
According to the magnetic force, the foils can be distinguished like this
Ferrite magnetic foils - they are weaker and cheaper. They are the most commonly used, and sufficient for the vast majority of applications.
Neodymium magnetic foils – they are significantly stronger than ferrite magnetic ones. They combine the advantages of magnetic foil (flexibility, easy formatting) and very strong neodymium magnets.
Magnetic foils supplied in A3, A4, or A5 formats are becoming more and more popular in various areas of life.
These thin, flexible, and magnetically active foils find a wide range of uses and bring many advantages.
Their main feature is the ability to stick to magnetic surfaces such as refrigerators, notice boards, or other metal surfaces. This is ideal for creating magnetic messages, pictures, plans, and other materials. All can be easily attached and removed as needed. Magnetic foils are also a good choice for advertising and marketing purposes because they allow an easy content exchange on magnetic billboards.
Another advantage of magnetic foils is their flexibility and easy handling. You can easily shorten, shape, and adapt them according to the project needs. This is useful, e.g., when creating magnetic labels for metal racks or cabinets. So you can quickly mark and have well-organized stored items.
In the field of education, magnetic foils are also important. They enable not only interactive teaching but also the creation of educational games and aids. They make it easy for teachers and students to visualize different concepts and school curriculum.
Overall speaking, magnetic foils are a multifunctional material with a wide range of applications. Their popularity continues to grow due to their ease of use and adaptability.
Notice: Magnetic foils are not suitable as a surface for attaching magnets, as they can cause their demagnetization. If you are looking for a suitable base for attaching magnets, use a Metal foil.