Permanent overband magnetic separators DND-AC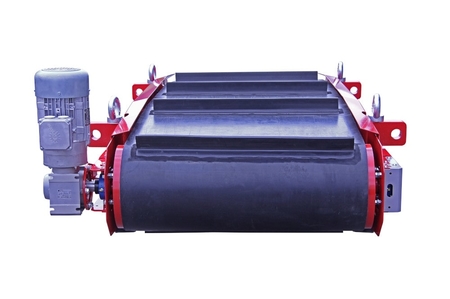 Overband magnet with automatic cleaning is used to handle product stream with a high content of ferromagnetic particles (exceeding the limitation of standard suspended magnets).
It is designed to capture in a quick and easy way valuable ferromagnetic particles from a product stream and at the same time the self-cleaning overbelt magnet protects your machinery (shredders, mills, grinders, screw conveyors etc.) that subsequently treat the material. The tramp ferrous metal extracted from the conveyor is removed by a heavy duty rubber belt into a skip or a collection bin at the side of the conveyor.
Why to buy an overband magnet at SOLLAU
1

service till 48 hours

2

guarantee of two years for the whole separator and of ten years for magnetic core (in the case of concluding the servicing contract and carrying out the regular service checks)

3

track tension indication

4

trading-in used overbands for up to 30 per cent of original price

5

tools for cover dismounting and track tension integrated in separator
SOLLAU 10 year warranty


We can vouch for the quality of our magnetic separators and that is why why we provide a 10 year warranty on them! Our magnetic separators can be relied on! We are a specialist in the field of magnetic separation.
Recommendation: Connection of a magnetic plate and magnetic roll
In order to achieve the highest possible degree of separation, it is recommended that – especially in case of a higher layer of material on the conveyor belt – the overband magnet DND is combined with the magnetic pulley MV (that is able to attract ferromagnetic particles from lower material layers).
Installation of an overhead magnet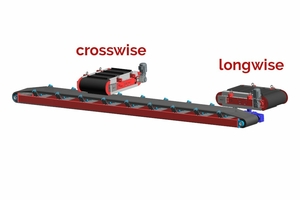 Most commonly the crossbelt magnetic separators DND-AC is suspended above and across the belt, however it is also possible to place the overbelt magnetic separator at the head of the conveyor (parallel to the belt). The kind of applied magnets depends on the position of the separator: if the magnetic separator is parallel to the conveyor belt.
It is possible to use weaker magnets (as at the end of the conveyor belt the material is quite loose). On the contrary, if the overbelt magnet is suspended across the belt, we recommend that stronger magnets are applied (as the material layer on the belt might be higher and compacter).
The standard version of the overband magnetic separator DND-AC M is fitted with strong permanent ferrite magnets. However, if you need stronger magnetic force (e. g. for mobile lines, grinders, mills), we recommend that the overband magnetic separator is equipped with extremely powerful neodymium NdFeB magnets from rare earth ores. A careful interference shielding ensures that the magnetic field is concentrated only on the material on the conveyor belt.
SOLLAU – our products are welded by real professionals!

SOLLAU certifications:  
Authorization to perform welding on pressure equipment according to PED 2014 / 68 / EU
Pressure welder certificate according to EN-ISO 3834 - 2, EN 1090 - 2, EN 13480 - 1 to 5, EN 13445 - 1 to 5
In total there are eight types of DND-AC self-cleaning overband magnets (five ferrite and three neodymium ones, see below), so that even standard products can satisfy the needs and requirements of the broadest possible spectrum of clients. At the same time, our customers can be sure that the parameters of the product are in accordance with their needs and that they will not pay extra money for an above standard equipment that would be unnecessary for their specific application.
Ferrite overbands
The main benefits of ferrite overband magnets include the following: high temperature resistence, long-term magnetic stability, affordable price, deep and very strong magnetic field (in case of stronger models).
Neodymium overbands
An extremely strong (but relatively short) magnetic field and a low weight are the most significant benefits of neodymium overband separators. That is why the application of the neodymium separators is preferred at the places where it would not be possible to use heavy ferrite magnets or where a very high separation efficiency at shallower depths is required (e. g., in cases of mobile crushing and recycling lines).
DND-AC M F PANTHER
DND-AC Ms F JAGUAR
DND-AC Mp F LION
DND-AC Mm F TIGER
DND-AC Mx F BEAST
DND-AC EKO
Which industrial branches can the overband magnets be used in?
This self-cleaning magnetic separator finds use in recycling, mining, plastic, glass and wood industries.