Permanent overband magnetic separators DND-AC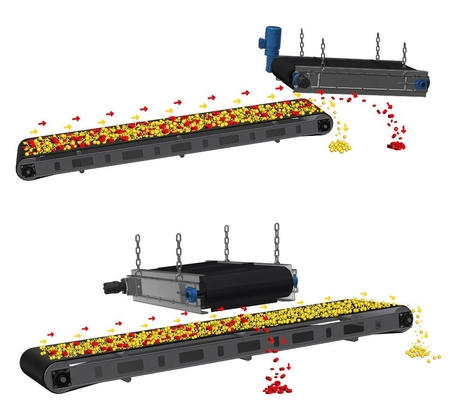 Overband magnet with automatic cleaning is used to separate ferrous metal contamination from bulk materials transported on a belt conveyor. It is ideal for materials heavily contaminated with ferrous particles. Thanks to the automatic cleaning, the separator operation is completely operator-free.
We fit the permanent overbands with either ferrite or very strong neodymium magnets.
For the applications where a light separator of small dimensions is required, (e. g., on mobile crushers or screeners) we can provide an overband magnet weighing only 440 kg!
For heavy industries we recommend that overbands with a magnetic induction of 1010 G (measured at the distance of 200 mm from the separator belt) are used. These very powerful overbands can be suspended 450 mm above the conveyor and separate ferrous particles from the conveyor at a speed of 3 m/s!
We know very well that different applications require different solutions. The strongest or smallest magnetic separator is not always required, the price of the product must also be taken into account. That is why we produce our overband magnets in 10 model series allowing us to provide our clients with the optimum solutions for their individual needs.
7 + 1 reasons for choosing our overband magnet
110-year warranty - we stand behind the quality of our magnetic separators and that is why we provide a 10-year warranty!
210 model series – we have a solution for every application. The basic product lines differ in the magnets that were used in their production (6 model lines are equipped with ferrite and 4 models with strong neodymium magnets). Our standard products are suitable for conveyors 500 - 2000 mm wide.
3Magnetic induction of 1 010 G – our strongest overbands generate a magnetic induction of up to 1010 G (at a distance of 200 mm from the separator belt)! They can be suspended at a height of 450 mm (= reachout) above the belt conveyor and separate ferrous metals sized from 0,5 to 300 mm at a speed of 3 m/s.
4Small compact dimensions - the small dimensions allow for an easy installation even in places with difficult access.
5Weight from 440 kg - our overband magnets can also be used on mobile crushers or in plants where the low weight and small dimensions are a must.
6All-stainless design - the overbands are made of stainless steel, guaranteeing high resistance and a long service life even in demanding conditions.
7No dead spots – the separators are designed in such a way that there are no dead spots between the magnetic core and the separator cover. That is why ferromagnetic particles cannot get under the separator belt and damage it.
8Customized production of separators - do you have any special requirements for dimensions, weight, performance or design of a magnetic separator? We will be pleased to produce a custom-made overband magnet for you that will meet all your needs. We have our design department and production line in the Czech Republic. We have long experience with the production of custom-made separators!
SOLLAU 10 year warranty


We can vouch for the quality of our magnetic separators and that is why why we provide a 10 year warranty on them! Our magnetic separators can be relied on! We are a specialist in the field of magnetic separation.
Benefits of using our separator
Final product without iron contamination
Protection of processing equipment (crushers, presses, screw conveyors, etc.) from damage by ferromagnetic objects (broken-off machine parts, screws, nuts, wires, etc.)
Separation of ferrous particles
Automatic cleaning - no operator required
Installation of an overhead magnet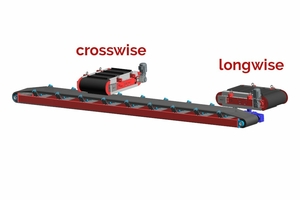 Most commonly the crossbelt magnetic separators DND-AC is suspended above and across the belt, however it is also possible to place the overbelt magnetic separator at the head of the conveyor (parallel to the belt). The kind of applied magnets depends on the position of the separator: if the magnetic separator is parallel to the conveyor belt.
It is possible to use weaker magnets (as at the end of the conveyor belt the material is quite loose). On the contrary, if the overbelt magnet is suspended across the belt, we recommend that stronger magnets are applied (as the material layer on the belt might be higher and compacter).
The standard version of the overband magnetic separator DND-AC M is fitted with strong permanent ferrite magnets. However, if you need stronger magnetic force (e. g. for mobile lines, grinders, mills), we recommend that the overband magnetic separator is equipped with extremely powerful neodymium NdFeB magnets from rare earth ores. A careful interference shielding ensures that the magnetic field is concentrated only on the material on the conveyor belt.
Measuring magnetic separator power
We take pride in thorough testing each overband and measuring its magnetic performance. We know that it is important for our customers to know the magnet performance at different distances from the magnetic separator. That is why we do not state the magnetic induction values only at the magnetic core, but also at a distance of 0 to 400 mm (measured in 50 mm increments) from the separator belt.
We measure the magnetic flux density in such a way that it corresponds as faithfully as possible to real conditions. Therefore, we do not measure the magnetic induction only at the magnetic core (as some manufacturers do and artificially increase the value of the magnetic induction in this way). We measure the magnetic flux density at the above mentioned distances from the separator belt. Such piece of information is important to the customer.
The practically measured values of the magnetic induction are stated at the corresponding overbands in the website section "Gauss charts".
Of course, we provide a test report with measured magnetic induction values for each separator.
Practical magnetic separator testing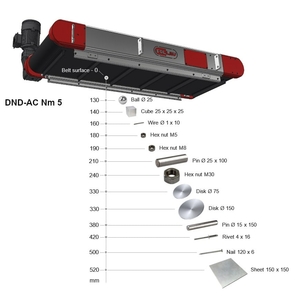 The measured value of the magnetic induction is clear information, but for many customers, it is more important to know the kind of ferrous objects our separator can really separate. That is why we performed a set of tests to better demonstrate the strength and functionality of our overbands. We selected 13 typical ferromagnetic pieces that our customers most often need to separate (nuts, nails, wires, steel balls, etc.) and measured how the distance between the overband magnet and the ferrous objects affects the magnetic attraction (i. e., how far from the separator belt the test pieces can be trapped). 
See the website section "Practical testing" for this piece of information - we are sure that it will provide our client with all the data needed for the selection of the right overband magnet.
Of course, our specialists are ready to help you choose the appropriate type of the magnetic separator.
Recommendation: Connection of a magnetic plate and magnetic roll
In order to achieve the highest possible degree of separation, it is recommended that – especially in case of a higher layer of material on the conveyor belt – the overband magnet DND is combined with the magnetic pulley MV (that is able to attract ferromagnetic particles from lower material layers).
SOLLAU – our products are welded by real professionals!

SOLLAU certifications:  
Authorization to perform welding on pressure equipment according to PED 2014 / 68 / EU
Pressure welder certificate according to EN-ISO 3834 - 2, EN 1090 - 2, EN 13480 - 1 to 5, EN 13445 - 1 to 5
Ferrite overbands
The main benefits of ferrite overband magnets include the following: high temperature resistence, long-term magnetic stability, affordable price, deep and very strong magnetic field (in case of stronger models).
Neodymium overbands
An extremely strong (but relatively short) magnetic field and a low weight are the most significant benefits of neodymium overband separators. That is why the application of the neodymium separators is preferred at the places where it would not be possible to use heavy ferrite magnets or where a very high separation efficiency at shallower depths is required (e. g., in cases of mobile crushing and recycling lines).
DND-AC M F PANTHER
DND-AC Ms F JAGUAR
DND-AC Mp F LION
DND-AC Mm F TIGER
DND-AC Mx F BEAST
DND-AC EKO
Which industrial branches can the overband magnets be used in?
This self-cleaning magnetic separator finds use in recycling, mining, plastic, glass and wood industries.