Chute magnets ML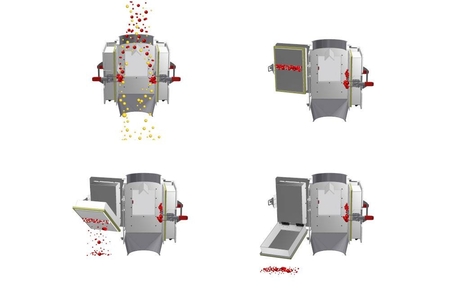 The inline chute magnet (because of its form also sometimes called "lantern" or external pole magnet) is designed for separation of small ferromagnetic particles from materials of worse bulk and pouring properties (such as cereals, flour, powder, sawdust etc.) that could clog the traditional magnetic grate separators.
Design of plate separator
We deliver the chute magnet in a stainless steel housing that is to be connected to a pipeline in order to become its integral part. At the separator inlet there is a solid steel dispersion cone that disperses the material flow over the magnetic plates (placed at the inner parts of the separator doors) and ensures a high effectiveness of the separation process.
Which way is plate separator cleaned?
The magnetic plate separator is easy to clean and it is not necessary to scrub off the captured ferromagnetic particles. The transparent checking windows on both sides of the separator enable permanent optical inspection of the contamination of the magnetic plates. The standard application of ferrite magnets arranges for nearly unlimited working life, however if you need higher magnetic force we recommend that the magnetic plate separator is fitted with extremely powerful neodymium NdFeB magnets from rare earth ores.
What pipeline is the separtor connected to?
In order to ensure a quick and easy connection, the separator housing is standardly ended by flanges (standard type, Jacob quick-connect fasteners or flanges according to client's needs) in diameters from 100 to 300 mm (but we can adjust the connection type as well as its size to client's requirements).
Which industrial branches can the plate magnetic separator be use of in?
The external pole magnet separator finds use in food, pharmaceutical, chemical, wood and ceramic industries.