Sorting line for recycling of cullet
Compound of the line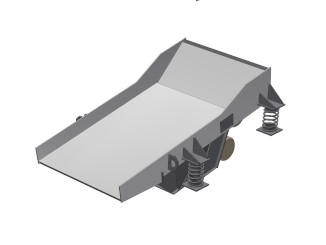 Vibrating feeder
Case study
Principal types of challenges
demanding application due to high level of abrasion of the material being processed (cullet)
big quantity being processed (up to 10 tons/hour)
necessity to separate both magnetic and also non-magnetic metal adulterants in a relatively small fraction (35 mm maximum).
Solution provided by SOLLAU s.r.o. company: a coherent system of separators in an antiabrasive design  (vibrating feeder reinforced with abrasion-resistant sheet metal of Hardox type, fully stainless MBZ 406 N 800 magnetic drum, ECS-C 800 separator for non-ferrous metals with a thickened conveyor belt) has been delivered. The line made by our company has not only managed a demanding task in an excellent way but also the ratio ´price/performance´ is highly appraciated by the client.