Hand demagnetizer RO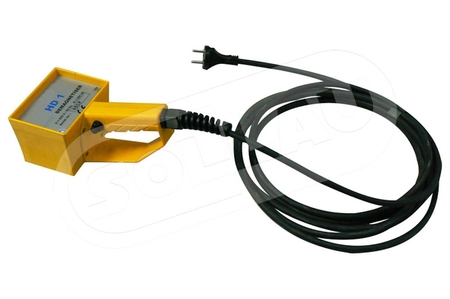 Some materials hold residual magnetism after exposure to a magnetic field - the amount depends on the size of the workpiece and the type of material. To eliminate this undesirable residual magnetism, objects must be exposed to an alternating magnetic field that eliminates it to the lowest possible value.
For large parts and workpieces, the lightweight HD Series Handheld Demagnetizer is easy to operate and easy to carry. We offer a manual demagnetizer in two versions depending on the thickness and dimensions of the workpiece that needs to be demagnetized. HD2 is designed for larger and thicker workpieces or tools.
Advantages of a manual demagnetizer
Compact dimensions and mobility
High demagnetizing power
Lightweight plastic construction with a large handle
Switch button for easy operation
Overheat protection
Recommended duty cycle 20%
Power 3m cable with plug
Easy placing an order in e-shopu