Semi-closed magnetic drums MBO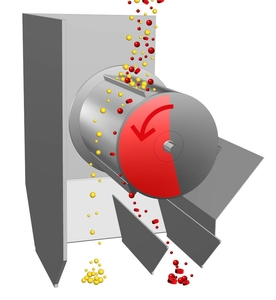 Magnetic drum in the semi-closed box pattern version serves to unintermitting and automatous separation of ferromagnetic particles coming from dry material (especially coming from wood chips etc.that could be problematic for MBZ magnetic drums in the basic covered version from the point of view of material fraction).
Design of magnetic drum
The semi-closed box of can be also connected to conveyor system easily. The system of permanent magnets makes the separation of magnetic metal particles without the need of interrupting the production cycle easier and simultaneously protects the subsequent machinery (e. g. presses, stampers, mills, shredder) against damage. The heart of the magnetic drum is a set of magnetic cores of crescent-moon shape that the outer part of the drum (made of stainless steel) with stalled tappers revolves round.
SOLLAU 5 year warranty


We can vouch for the quality of our magnetic separators and that is why why we provide a 5 year warranty on them! Our magnetic separators can be relied on! We are a specialist in the field of magnetic separation.
Cleaning of magnetic drum
Metal magnetic adulterants are caught on the surface of the drum and fall off behind the drum axis into the hopper for ferromagnetic contaminants.
SOLLAU – our products are welded by real professionals!

SOLLAU certifications:  
Authorization to perform welding on pressure equipment according to PED 2014 / 68 / EU
Pressure welder certificate according to EN-ISO 3834 - 2, EN 1090 - 2, EN 13480 - 1 to 5, EN 13445 - 1 to 5
Which industrial branches can the magnetic drum in the semi-enclosed design be used in?
The semi-closed magnetic drums find use in recycling and mining as well as in wood, plastic, ceramic, glass and food industry.
Related products