Magnetic drums MB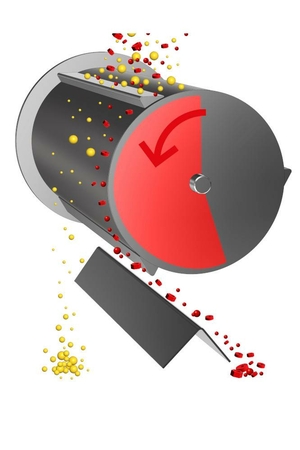 Magnetic drum is a device for automatic and permanent removal of magnetic iron metals from inert materials. The permanent magnet systems simplify the separation of ferrous particles, allowing for automatic recovery without production stoppage. At the same time the magnetic drum protects the subsequent machinery (e. g., shredders, mills, grinders) from breakage.
Design of magnetic drum
The key part of the machine consists of a half moon shaped internal magnetic nucleus (made from either ferrite or neodymium NdFeB magnets) and of an external drum from stainless steel that revolves on a shaft around the fix magnetic cores. The strong permanent magnets capture and drag the ferromagnetic impurities on the surface of the rotating drum. The ferrous pieces fall off beyond the magnetic axis of the drum.
SOLLAU 5 year warranty


We can vouch for the quality of our magnetic separators and that is why why we provide a 5 year warranty on them! Our magnetic separators can be relied on! We are a specialist in the field of magnetic separation.
Installation of magnetic drum
The magnetic drum can be placed on the output of a conveyor belt or below a hopper (unlike the magnetic pulley the magnetic drum is not an integral part of the conveyor). It is possible to deliver the magnetic drum also in a stainless steel housing with two hoppers under the case. The non-magnetic materials fall into the first hopper and the caught metal impurities are transported on the surface of the drum and fall off beyond the magnetic axis of the drum into the second hopper.
The magnetic drum is really multipurpose, it can collect small as well as big ferromagnetic parts (the dimensions of the drum and the kind of the permanent magnets can be adapted to customer's demands).
The application of ferrite magnets arranges for nearly unlimited working life, however if you need higher magnetic force we recommend that the drum is fitted with extremely powerful neodymium NdFeB magnets (especially in case of the separation of small ferromagnetic particles from materials of worse bulk properties). We deliver the magnetic drum either separately or in a stainless steel housing. If required, the housing can be also equipped with exhaust connector flanges enabling the connection of the machine to client's ventilation system (in order to draw in the separated impurities).
Which industrial branches can the magnetic drum be use of in?
The magnetic drums find use in recycling and mining as well as in wood, plastic, ceramic, glass and food industry.
Related products