Pipeline magnetic separators for pneumatic conveying lines MSP-S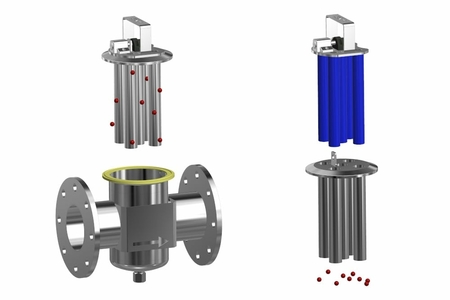 Magnetic traps (magnetic filters) are designed to separate ferromagnetic particles from bulk materials transported in a pipeline. As standard, the flow magnetic separator is fitted with flanges (other types of terminations are possible on request), so you can easily install it in the piping. It is designed for a pressure of 6 - 10 bar (according to the pipe diameter) - on request we can make it resistant to higher pressures as well. It can also be used for cleaning of bulk materials transported in pressure pipelines.
The great advantage of the separator is its low weight and the correspondingly easy handling and cleaning. Thanks to its advantageous price, this appliance is the most used and versatile magnetic filter for the separation of ferromagnetic particles from various bulk materials transported by pipelines.
The pipe magnetic separator is often used to remove ferrous metal contamination from bulk materials transported in pipelines (such as flour, sugar, spices or plastic granulate). The separator can be installed in positive as well as negative pressure conveying systems (typically used to transport bulk materials).
SOLLAU 5 year warranty


We can vouch for the quality of our magnetic separators and that is why why we provide a 5 year warranty on them! Our magnetic separators can be relied on! We are a specialist in the field of magnetic separation.
Benefits of using the separator
Material without ferromagnetic particles
Fast investment return
Easy installation and operation = higher willingness to use the separator
We produce the pipeline magnetic separator in connection diameters from 80 to 200 mm as standard. However, we can adjust the connection dimensions and the connection mode (fire hose couplings, flange, screw connections, special connectors etc.) according to your wishes as well. 
We are the manufacturer of these magnetic filters.  We guarantee a top technical design and a favorable price. 
The magnetic trap consists of several parts:
Magnetic component
Magnetic core
Stainless steel tubes
Separator body
The magnetic core consists of magnetic rods, placed in stainless steel protective tubes. Thanks to this "tube in tube" system, the magnetic rods are protected and their lifetime is significantly extended. This also eliminates the risk of flaking off a piece of magnet or its nickel plating and subsequent contamination of the cleaned material.
The magnetic component is equipped with magnetic rods, formed with the strongest neodymium magnets. These magnetic rods create an ingenious labyrinth so that the medium to be cleaned is in contact with several magnetic rods. Thanks to this cleaning labyrinth and the applied strong neodymium magnets, the maximum efficiency of the magnetic separator is ensured - we can capture ferromagnetic impurities starting with 1 µm!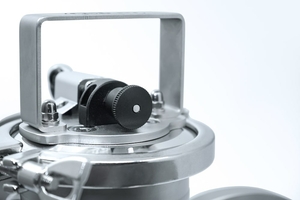 Fixation of the magnetic component to the separator body is ensured by a fast clamp. This makes the separator very quick and easy to clean.  
There is a lock of the magnetic rods integrated in the separator, protecting it from an unintentional cleaning. This is often required by auditors to ensure the safety of the cleaning process.
How will be the separator cleaned?
Ferromagnetic particles are trapped on magnetic rods being in contact with the separated material. Cleaning the magnetic filter is very easy and quick. It is performed in several steps:
Release the fast clamp
Pulling the magnetic component out of the separator body
Removing the magnetic cores from the stainless steel protective tubes (metal particles fall off)
Reverse assembly
SOLLAU – our products are welded by real professionals!

SOLLAU certifications:  
Authorization to perform welding on pressure equipment according to PED 2014 / 68 / EU
Pressure welder certificate according to EN-ISO 3834 - 2, EN 1090 - 2, EN 13480 - 1 to 5, EN 13445 - 1 to 5
Exchange of magnetic rods
The design of the magnetic separator allows for easy replacing of the magnetic rods (damaged e.g. by improper handling). This exchange is really easy - just loosen one screw and replace the rod. Therefore, no manufacturer's service intervention is required.
We offer the separator MSP-S with three different surface finishes:
sandblasted (Ra 1.6 µm)
internally polished (Ra 0.14 µm)
fully polished (Ra 0.14 µm)
MSP-S OCTOPUS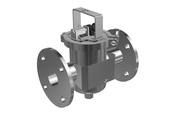 Low weight = easy handling
9 500 G at the point of contact with the material to be cleaned
Optional variant – 13 500 G
Pressure resistance up to 10 bars
High pull-off force
Integrated lock of magnetic rods
Is designed to separate magnetic iron contamination from a rapid stream (up to 25 m/s) of dry substances of good bulk properties.
Some products from this model family are available for immediate purchase. We are constantly extending the offer of our magnetic separators in stock so that we can deliver them to you immediately. Please, contact our dealer to inform for their current availability.
Which industrial branches can the pipeline magnetic separator be use of in?
The pipeline magnetic separator finds use in food industry (for cleaning products like flour, sugar, starch etc.), pharmaceutical industry, plastic industry, chemical and ceramic industries as well as in sanitary facilities.