Magnetic grate separators in housing MSS-MC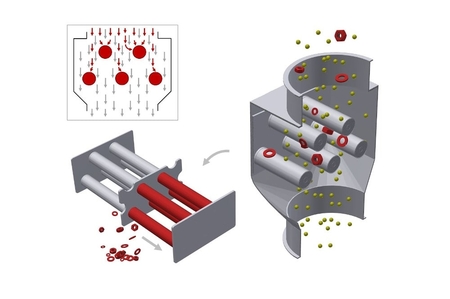 A drawer magnet is designed to separate in a quick and easy way magnetic iron contamination from free-flowing substances of good bulk properties and to protect the machinery that subsequently treats these materials.
Benefits of using the separator
Material without the ferromagnetic admixtures
Permanent protection of technological machinery
Fluent process operation
Design of the grate magnet in housing
The basic elements of the magnetic grate separator in housing are one or two rows of magnetic grates (consisting of stainless steel tubes). While the material flows over the magnetic tubes, a very strong magnetic field (generated by the neodymium NdFeB magnets inside of the tubes) traps all metallic particles on the surface of the tubes. The magnetic grates inside of the housing are placed one above the other and the upper set of tubes consists of one tube less. The grate sieve - created in this way – is in a very intensive contact with the flowing material, can capture even the smallest ferromagnetic impurities and guarantees an extremely high separation efficiency. The captured metal contaminants are pushed to the underside of the tube where they are out of contact with the product flow preventing washoff back in to the clean material.
What pipeline is the drawer-in-housing connected to?
In order to ensure a quick and easy connection, the separator housing is standardly ended by flanges (standard type, Jacob quick-connect fasteners or flanges according to client's needs) in sizes from 100 to 300 mm, but we can adjust the connection type as well as its size and the inbuilt height to client's requirements.
We offer the drawer magnets in three different surface finishes:
sandblasted (Ra 1.6 µm)
internally polished (Ra 0.14 µm)
fully polished (Ra 0.14 µm)
SOLLAU – our products are welded by real professionals!

SOLLAU certifications:  
Authorization to perform welding on pressure equipment according to PED 2014 / 68 / EU
Pressure welder certificate according to EN-ISO 3834 - 2, EN 1090 - 2, EN 13480 - 1 to 5, EN 13445 - 1 to 5
Which industrial branches can the grate magnet in housing be used in?
Drawer magnets are mostly used in the area of recycling and waste treatment, food processing, pharmaceutics, wood processing, plastic industries, mining and mineral processing, industrial production of ceramics and glass etc.