Forklift magnetic sweepers MZ VZV
The magnetic broom for forklifts is designed to remove metal debris (nails, tacks, nuts, bolts, screws, paperclips, metal shavings, wires etc.) from large areas. It is often used to clean car parks, large industrial areas, warehouses, scrap yards (where metals are bought and recycled) and in general at all places where nails and other ferrous particles can occur and cause tire defects. There is a simple rule - collect the nails before they cause you a puncture!
These magnetic brooms are distinguished by an extremely large working area of 1400 x 200 mm! That is why they can capture a really big amount of metal particles and the interval needed for broom cleaning is prolonged = speeding up work and reducing costs.
Easy placing an order in e-shop
We produce magnetic brooms for the SOLLAU forklift in two versions, differing in the applied magnets. We fit the brooms either with ferrite or very strong neodymium magnets. The broom with neodymium magnets allows you to attract ferrous metals from a larger distance (it has a deeper magnetic field). The main advantage: these strong brooms make the collection of ferrous particles even at higher forklift speed possible, what has a beneficial effect on the speed and efficiency of the work.
Installation of the magnetic broom on a forklift
The forklift magnetic sweeper is easily mounted onto the forks of universal forklift trucks using two pockets. Once mounted, the sweeper is fixed into position with two safety brackets. Installing a broom on a forklift is very quick and comfortable - it couldn't be simpler!
Cleaning a magnetic broom on a forklift
It is quick and easy - release the safety brackets, lift up the cover and the trapped metal particles will fall off.
MZ-VZV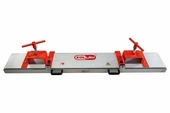 Dimensionally compatible with all standard forklifts = an easy and fast installation
Working width of 1400 mm
Working area of 1400 x 200 mm
Easy demagnetization (cleaning)
Versions with ferrite or neodymium magnets
Magnetic induction from 1300 to 3000 Gauss (according to the applied magnets)
Heavy duty design
Possible product customization
Materials used
Sweeper body: aluminum EN AW 6060
Cover: stainless steel SS 1.4301 (= AISI 304)
Brackets: steel 11 373
Surface treatment
aluminum - brushing
stainless steel - sandblasting (Ra 1.6 µm)
steel - painting (RAL 3000)
Some products from this model family are available for immediate purchase. We are constantly extending the offer of our magnetic separators in stock so that we can deliver them to you immediately. Please, contact our dealer to inform for their current availability.
Which industrial branches can the magnetic broom be use of in?