9. 11. 2023
Efficient removal of ferrous particles in the wood pellet production by using a magnetic separator (case study)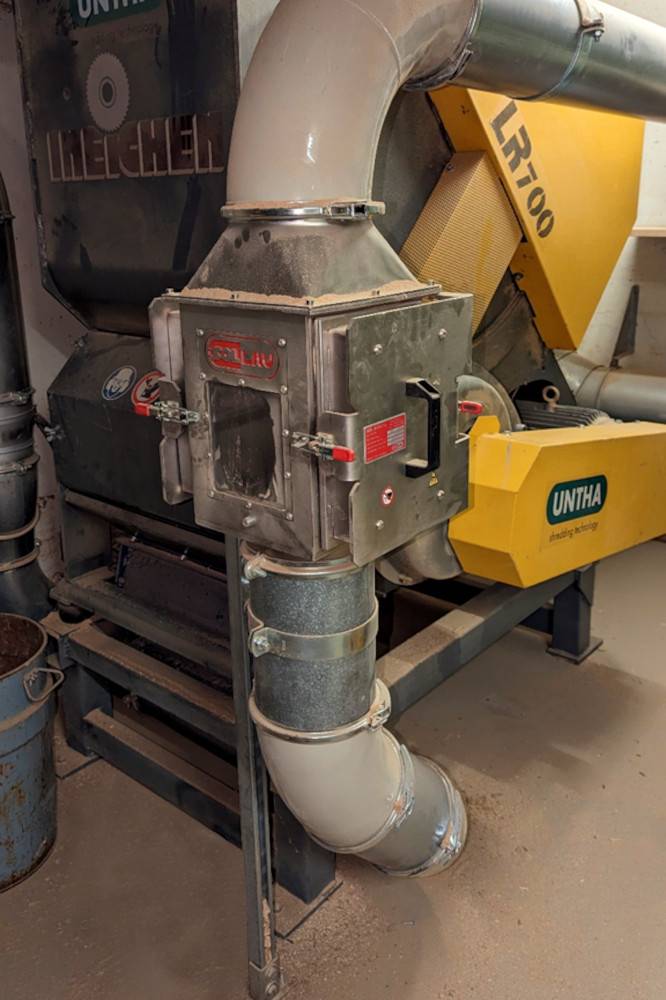 Initial status
Our customer is a specialist in the production of wood chips and wood pellets. In the crushed wooden material there are often metal particles causing damage to the processing equipment.
Problem
The customer uses a UNTHA LR 700 single-shaft shredder for shredding the wood. There are various types of the wood material - solid wood, veneers, particleboard, etc. Large iron pieces such as nails, screws, etc. are often found in this material. Since the heavy-duty shredder is of very high quality, it can shred the ferrous particles together with the wood.
However, the problem arises in another part of the production equipment, namely when the already shredded wood enters the pellet press where it is pressed (under high pressure) into a pellet mold. And it is this mold (i. e., the pellet matrix) that is usually damaged by the above mentioned ferrous contaminants.
This causes unnecessary additional costs for service or eventual replacement of the damaged matrix.
---
Solution
The material is conveyed to the pellet press in a 200 mm diameter pipe. This pipe was selected as the most suitable location for the installation of the chute magnets ML 200 F.
This kind of magnetic separator is designed specially to remove larger iron particles from flow resistant materials like wood chips. The separators were placed in the pipeline in order to come into direct contact with the processed material.
To achieve the highest purity of the final product and to provide the maximum protection of downstream production equipment, we agreed with the client to install several chute magnets in a row in his pipeline. The locations of the separators have been chosen so that the operator could easily access them. Cleaning the separator has thus become a daily routine for the operator and this is why such excellent separation results are achieved.
Benefits of our solution for the client
Pellet press protection: The plate magnet ML 200 F can effectively separate larger iron pieces as well as iron dust. This significantly reduced the risk of damage to the pellet matrix.
Prevention of costly repairs: The elimination of metal contamination has reduced equipment repair costs and improved the production efficiency.
Constant production: Thanks to the installation of the chute magnets, the company can maintain continuous production without interruptions caused by equipment damage.
Applied equipment: Chute magnet ML 200 F
Advantages of the ml 200 f plate separator
Separation of ferrous particles in size from 0.5 mm
Ferrite and neodymium variants
Made to measure separators production
Suitable for abrasive and flow resistant materials
Magnetic strength up to 7 500 Gauss on the stainless steel protective cover
High processing capacity (up to 150 m3/h)