3. 5. 2022
Separation of iron and aluminum cans from non-metallic contamination (case study)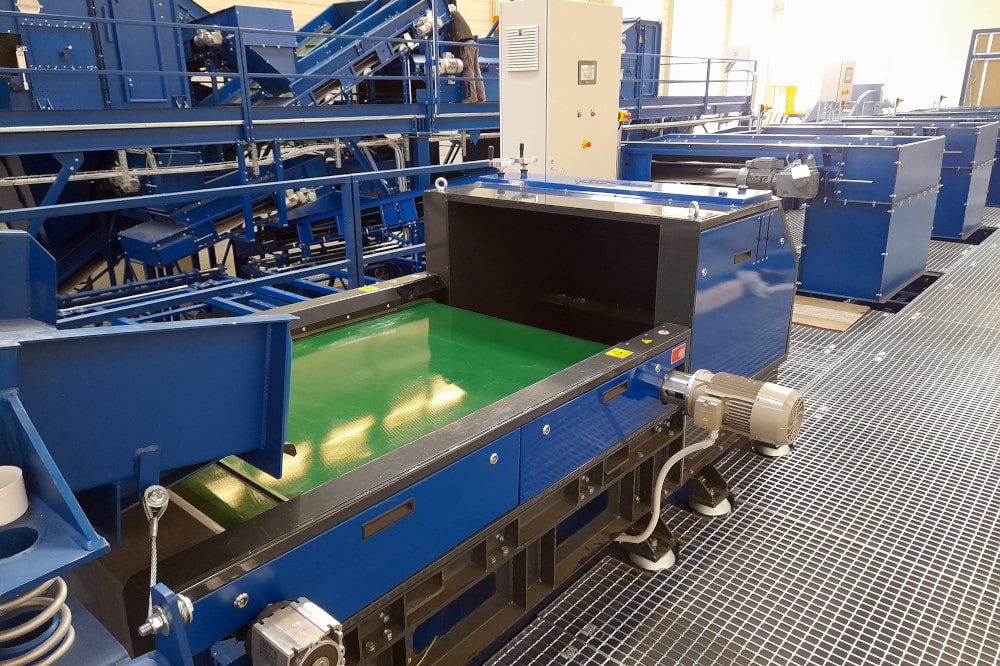 Separation goal
The metal cans can be contaminated with non-metallic objects (paper, plastic packaging, etc.). The separation goal is to sort out the aluminum cans from the iron ones so that the maximum purity of both types of materials is achieved (and the aluminum cans are not contaminated with iron ones and vice versa). Another target is to maximize the value of both separated materials.
Result:
We managed to achieve the required purity of the final product while observing the maximum permitted sorting losses of the processed material. The sorting line is designed for a capacity of 3 t/h. It is, of course, possible to manufacture a line of a different sorting capacity.
---
Industry: Recycling
Application: 
The mixture of pressed and non-pressed cans (ferromagnetic and aluminum) is partially contaminated with non-metallic objects (such as paper, plastics).
The task was to manufacture such a sorting line allowing to sort iron and aluminum cans and these separate from the non-metallic contamination. In the course of the sorting, the losses of max. 1% as well as 100 % sorting purity had to be kept.
The line had to be designed in such a way to allow transporting the material from the floor level.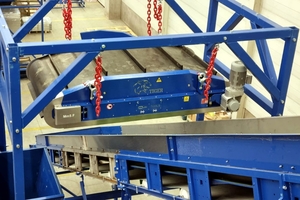 In the first phase, the iron cans are separated by an overband magnet with automatic cleaning - DND-AC Mm5F TIGER. We have applied a ferrite overband magnet optimized to lift and remove the iron cans from the conveyed material even at the distance of up to 400 mm. The iron cans separated in this way are transported by a conveyor to a storage container.
The material without ferromagnetic particles is conveyed to a vibrating feeder. The vibrating feeder spreads the material over the entire width of the subsequent non-magnetic metal separator and at the same time reduces the layer of the material on the conveyor belt, what is necessary for the proper functioning of the ECS separator.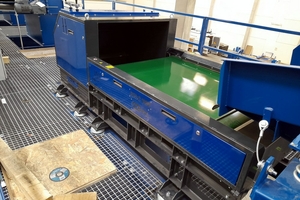 So, in the second phase, the material falls on the non-magnetic metal separator ECS-C RAM 1000 separator. Here, with the use of eddy currents, aluminum cans are separated from non-metallic materials (plastic, paper, etc.).
In this way the original material is divided into three required parts: iron cans, aluminum cans, and non-metallic material.
The sorting line is designed to meet the required hourly capacity of 3 t/h.
The entire separation system is automatic, without the need for human operators.
The sorting line produced by our company is a device of high separation efficiency. We can produce it according to your capacity needs, taking into consideration the composition of the separated material.
Materials to be separated
Pressed and also non-pressed aluminum and iron cans mixed with non-metallic objects. The can volume may range from 0.1 to 3.0 liters. The material may be wet and dirty.
Equipment applied 
Overband magnet with automatic cleaning DND-AC Mm5F TIGER:
Suspension height: up to 400 mm
It is equipped with ferrite magnets
Max. conveyor speed: 2.5 m / s
Recommended for a conveyor belt width of 1400 mm
Eddy current magnetic separator (of non-ferrous metals) ECS-C RAM 1000:
Recommended application: separation of non-magnetic metals sized from 50 x 50 mm
Working width: 1000 mm
Vibrating feeder